Retaining Walls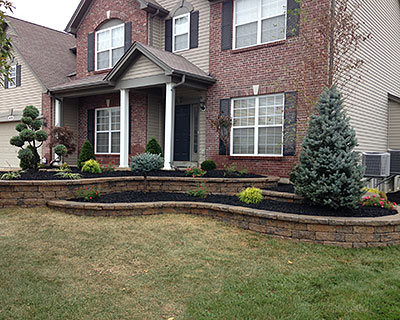 The hardscape features that must be included in your outdoor improvement project are retaining walls. These structures are not only needed for aesthetic purposes but also for their critical functions in the landscape. A retaining wall is primarily used to prevent soil erosion, which can damage landscape features, foundations, and other structures inside your property. Hilly areas in your property can also pose safety risks to you, your family, and guests. And only a professionally designed and built retaining wall can reduce those risks.

At Thies Custom Walls and Landscaping, we guarantee the structural integrity of every retaining wall we design and build. Our crews are the best builders that you can find in Missouri. They have completed hundreds of retaining wall projects in residential and commercial properties across the state. We also have access to premium retaining wall materials, so clients are assured of top-quality products. Our partnerships with some of the leading wall block suppliers help us complete projects on time and even ahead of schedules. If you want to see our works, please call us at (636) 379-3576. We can show you some of our completed retaining walls in St. Louis, St. Charles County, North St. Chesterfield, South St. Louis County, St. Peters, Louis County, O'Fallon, St. Charles, Lake St. Louis, and Wentzville, MO.
Retaining Wall Blocks
The quality of the retaining wall blocks is a big factor in the overall integrity of the wall. Your contractor should use only premium blocks from reliable manufacturers. They may cost higher, but you are assured that they won't cause problems in the future. Subpar materials can lead to the deterioration or collapse of the retaining walls. At Thies Custom Walls and Landscaping, we use the segmental retaining wall blocks for their durability and attractive designs.
Concrete Blocks
Concrete blocks are commonly used for hardscaping projects such as the construction of retaining walls. If the installation is handled by professionals, you can expect a sturdy and reliable wall that can last a lifetime. CMU's are available in various designs, so you can always achieve your desired look or theme for the wall.
Building a Retaining Wall
Building a retaining wall is not a DIY project. It requires expertise, proper training, tools and equipment, and the use of proven methods and techniques. If you allow inexperienced contractors to handle the job, you will surely get an inferior structure that may collapse anytime. Retaining walls are investments, so they must be built tough to last long.
Retaining Wall Design
The retaining wall design is very critical in achieving a properly functioning wall. Your contractor should create a design that can meet the wall's load-bearing requirements. Moreover, all factors that may affect the integrity of the wall should be considered. Some of these factors include the height and size of the wall to be built, the soil condition, the amount of soil to be retained, and the quality of the materials to be used in the construction. When all these factors are taken into consideration, you can surely have a sturdy wall that can endure harsh external conditions.
Please contact us now for all your retaining wall concerns. Thies Custom Walls and Landscaping has the capability to install your desired retaining walls without compromising design and quality.
"MORE ARTICLES"
Landscaping
Pavers
Water Features
Landscape Lighting
Landscape Design
We Provide Services to the Following Cities and Towns in MO: