Pavers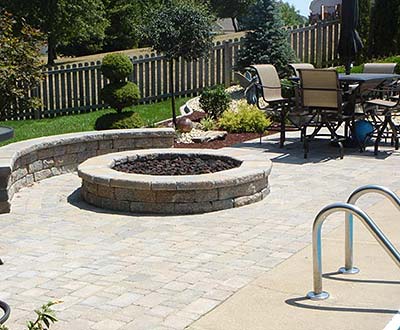 Pavers are highly favored masonry materials because of their outstanding qualities. They are extremely durable and can last for decades with minimal maintenance effort. As versatile materials, they can be used on various residential and commercial applications. You can see them on patios, driveways, parking areas, sidewalks, pool decks, garden paths, and other outdoor living spaces. And the best thing about this paving material is that it can easily transform any area into a stunning and elegant space.

If your home improvement project requires paver installation, please call us at Thies Custom Walls and Landscaping. Our company has in-depth knowledge about the different types of pavers, and we have the capabilities and skills to install them. We have certified paver installers with extensive experience in residential and commercial paver installation projects. Moreover, our long list of completed projects is a proof of our competency in this particular area. You can see some of our outstanding works in St. Louis, St. Charles County, North St. Chesterfield, South St. Louis County, St. Peters, St. Louis County, O'Fallon, St. Charles, Lake St. Louis, and Wentzville, MO. Call us now at (636) 379-3576 for your inquiries.
Paving Stones
Paving stones are exceptional paving materials. They are not only sturdy but also inherently beautiful. Many property owners choose them because of the elegance and unique appeal that they create. They are best used on high traffic areas and outdoor living spaces, such as patios, pool decks, and outdoor kitchens. Stones cost a little bit higher to install, but the aesthetic benefits that they offer are priceless.
Patio Pavers
The patio is the most common outdoor living space that you see in most Missouri homes. This is not surprising given the outstanding benefits that this feature can offer. A patio is an extension of your indoor living space, so it must be made from the finest materials available. At Thies Custom Walls and Landscaping, we highly recommend patio pavers for this amenity. These pavers come in various designs, colors, patterns, and textures, so it's easy for us to create your desired look or theme.
Concrete Pavers
Contractors like us choose concrete pavers because of their versatility. Almost all outdoor features and amenities can be made from this paver type. They are commonly used on hardscaping projects and outdoor living feature installation. Here are some more reasons why pavers are the most preferred masonry materials today:
easy to install
durable and long-lasting
require minimal maintenance
available in various designs
low-cost installation
perfect for load-bearing applications
easy to repair and replace
Brick Pavers
The classic appeal of bricks is irresistible. In fact, there are still a lot of homes and commercial establishments around the country that use them as a primary building material. They can be used on any project because of their subtle and earthy colors. You may also try them on your patio, walkways, sitting areas, fire features, and outdoor kitchen. Meanwhile, brick pavers are environment-friendly construction materials. They can be recycled and won't harm the environment when removed from your property and disposed.
Driveway Pavers
Your driveway requires sturdy masonry materials that can withstand heavy vehicle traffic, freeze-thaw cycles, and other extreme weather conditions. The top materials for this project are driveway pavers. These pavers are specifically made for load-bearing structures, so you are assured that they can endure the demands of your driveway. Just make sure that the installation is handled by expert people like us at Thies Custom Walls and Landscaping.

"MORE ARTICLES"

Landscaping
Retaining Walls
Water Features
Landscape Lighting
Landscape Design
We Provide Services to the Following Cities and Towns in MO: