Dry Creek Beds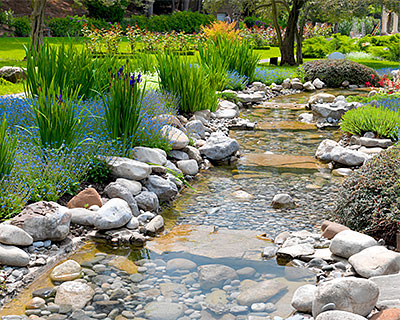 Having landscaped areas on your property adds to the aesthetics and value of your home. When these are designed and installed well, you are more inclined to use these spaces. We at Thies Custom Walls and Landscaping have worked on various projects for clients across Maryland Heights, Hazelwood, Wentzville, Ellisville and Saint Ann.

While most of these have been complete landscaping projects, we have also catered to drainage installation projects for clients in Saint Charles, Creve Coeur, Lake Saint Louis, Bridgeton and Chesterfield. We are a company that has years of experience in the field and over the years have focused on providing our clientele solutions that help create spaces they would love to use and spend leisurely moments in.
Types of Drainage Features
Drainage is one of the most ignored aspects in any landscaping. While property owners tend to focus largely on the type of plants and trees they want on their property, novice landscaping companies rarely pay attention to aspects such as irrigation and drainage. In fact, if these two features aren't planned well, the landscape just won't remain healthy.

Our drainage experts use innovation and creativity to design drainage installations. They are part of our larger team that includes horticulturists and lawn experts and ensure the drains are designed and installed to perfection.

While we do use a range of features such as drain tile systems, gutters & downspouts, swales & culverts, dry wells, French drains, driveway, pathway & walkway drainage, channel drains and area drains, we also install dry creek beds on many properties. While these installations aren't suitable for every property, they are an excellent option for properties that are prone to water collection and swampy soil.
About Dry Creek Beds
These are extremely effective drainage solutions that are the perfect solution to eliminate flooding or swampy areas in your yard. Dependent on how the layout of your property is, we would be able to create a shallow swale. This will then be lined with big and small river rocks that are able to withstand even extremely heavy rainfall.

The rocks in the dry creek bed break the force and current of the flowing storm water and then direct the water into the main drains. Apart from this, it helps prevent soil erosion and creates a very alluring and natural forest setting in your backyard. We can install various types of plants along the periphery of the dry creek bed and this adds to its charm.
Dry Creek Beds - The Considerations
We custom design dry creek beds based on various factors such as:
The size of your property
Grading of the land
Installation of retaining walls
Position of the main drains with reference to the area that has swampy soil
Types of plantings required
For more information about how we can help with drainage system installations on your property, call Thies Custom Walls and Landscaping at 636-379-3576. You can also visit our website for information about the range of other services we offer.
We Provide Services to the Following Cities and Towns in MO: