Retaining Walls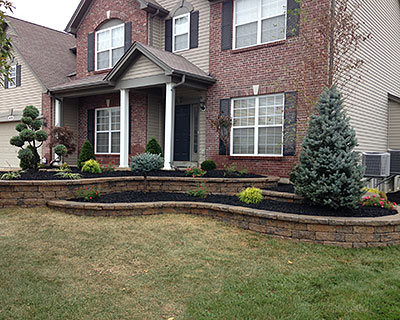 When a landscape design is being planned, we at Thies Custom Walls and Landscaping take a number of aspects into account. There is a great deal of planning, creativity and innovation that goes into every project and we focus on ensuring that every landscape we design is functional, aesthetically appealing and a value-add to your property.

We have handled a significant number of projects for customers in and around Maryland Heights, Hazelwood, Wentzville, Ellisville and Saint Ann. One of the first things we do when we take up any project is that we come and survey the property. This gives us a good understanding about how we can start out with planning this area. In many of our projects in Saint Charles, Creve Coeur, Lake Saint Louis, Bridgeton and Chesterfield, we have noticed that the properties have graded land.

While we feel that naturally graded land presents interesting landscape design opportunities, there are times when steep slopes or too much grading can pose a problem. Sometimes, the design calls for installation of a driveway, pathways and walkways etc. This also means we need level land to install these. The only way to achieve this is to level the slopes or dig into them and create space for the driveway or other elements like pathways, planters and garden steps. This is where we consider installing retaining walls.
Retaining Walls - What Are They?
These are specially-engineered walls that could be made using CMUs, poured concrete, brick or natural stone. The material used would be based on the incline of the slope and the level of grading, as well as your personal preferences. If you like the look of natural stone but feel it doesn't fit into your budget, we can build concrete walls and clad them with natural stone veneer.

We have also built retaining walls to demarcate different areas on a property and to accent a patio/pool/firepit/fountain. Many of our customers have been very happy with the seating walls we have designed and built for them. They act as retaining walls, and the built-in seating adds to their functionality.

For instance, when we level out a space in your yard to build a fireplace, fire pit or outdoor kitchen, we can build retaining walls with in-built seating. One side of the wall will provide support to the slope and prevent soil erosion, while the other face of the wall can have seating.
Cost-Effective Retaining Walls Solutions
We use the best materials in our work and hire only skilled, trained and experienced personnel. The retaining walls will be engineered to perfection and the work will be completed in an efficient and timely manner. We also ensure that we maintain very reasonable retaining wall cost in your project and that we provide you value for money. If you have any questions about our services or want an obligation-free quote, simply call Thies Custom Walls and Landscaping at 636-379-3576. You can also visit our website for information about the range of other services we offer.
We Provide Services to the Following Cities and Towns in MO: