LED Landscaping Lighting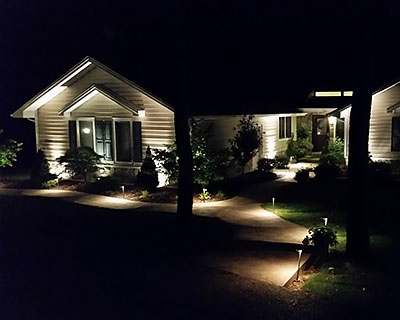 Custom illumination provides much more than beautiful aesthetics and evening curb appeal! Safety and security are a must have for any homeowner. Protect your family and provide that one extra layer of security against neighborhood crime with properly placed exterior lighting. We have all tried to save money with inexpensive "big box store" lighting. It is a guarantee this lighting will fail in the long term.

Our teams are experts in the placement and wiring of your exterior lighting; burying the wires for a discrete and safe environment for your family and pets. You will also have the freedom to adjust your custom timer that will change with the seasons and automatically turn on with the first sign of dusk each evening. Keep in mind this same lighting will turn on and off while on vacation and away from your home for extended periods of time! We will design your custom lighting, installation and placement according to your preference and style.

If you prefer a DIY lighting option, but would like professional grade lighting products; ask us about purchasing a lighting package that you can install yourself. We would like to remind you that our team are lighting experts and many obstacles can and will occur with lighting installation. Our company can only guarantee our own labor and installation. As a disclaimer, "do it yourself" lighting should be reserved for those experienced in these types of projects!

Thies Custom Walls and Landscaping provides lighting options from custom Kitchler Lighting. You have the choice between LED, incandescent, or a mixture of both. Whatever your preference, we are happy to create an illumination experience just for YOU!
We Provide Services to the Following Cities and Towns in MO: