Fountains & Ponds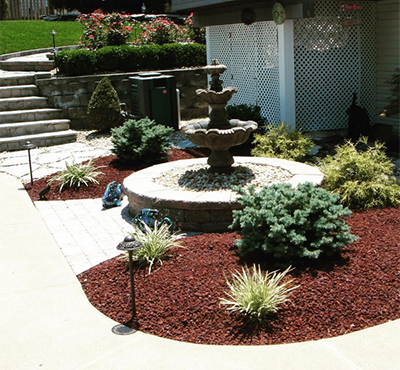 At the core of our company, we value your vision and objectives. It is our desire for you to preserve special areas of your home that produce unforgettable moments with family and friends! We will imagine our own families gathered around an outdoor oasis and design the same for you. Each and every project is unique and tailored specifically with you in mind! The two hardscapes featured here deliver focal points that offer visual appeal and so much more!

Artistically placed water features inspire serenity and sound! There are many variations offered when choosing a water feature. Historically, a water feature simply provided a nice home for a fish pond. We have certainly designed many beautiful ponds. Today, there are opportunities to build waterfalls, fountains, and countless flowing structures. Set the mood of your yard with one of these intriguing and gorgeous additions!

Fire Pits remain our most popular hardscape accompaniment. Living in the MidWest, a Fire Pit will allow 12 full months of outdoor entertainment! Add a stone seating wall and extend your natural environment with no plastic chairs needed. Your friends and family will gather for smores, BBQ, and bonfires all in the comfort of your home.

Our team has been designing hardscape features for over 20 years! Bring your design to life or request that Greg create something specifically for you! Making memories and bringing family together is our specialty!
We Provide Services to the Following Cities and Towns in MO: