Landscaping
Properties with professionally designed landscaping are valued higher and more attractive. They also become more functional because of the careful selection of outdoor features and amenities. The addition of hardscapes and outdoor living features will not only make the landscaped area favorable for outdoor activities but also make it safer for everyone. Property owners can likewise expect stunning flower gardens, topiary, and lawns. These are just some of the benefits of having a well-planned landscape.

If you want this kind of outdoor setting, you have to get the services of professional landscapers. At Thies Custom Walls and Landscaping, we can help you realize your dream landscape. We have the experience, skills, and resources to complete any kind of landscaping project. With our decades of experience in the industry, we have already designed and built countless landscapes for St. Louis, St. Charles County, North St. Chesterfield, South St. Louis County, St. Peters, Louis County, O'Fallon, St. Charles, Lake St. Louis, and Wentzville, MO clients. We urge you to call us today at (636) 379-3576 so we can discuss further our range of services.
Landscape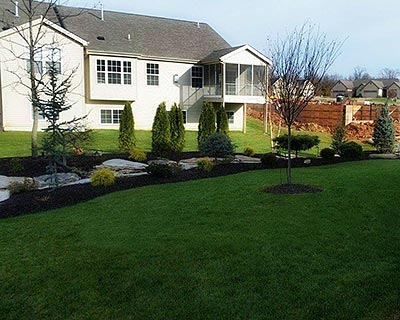 A great landscape should contain your desired features and amenities. The softscape feature, which is the basic element in landscaping, should be a combination of different plantings, such as annuals, perennials, trees, shrubs, and ground cover. The creative use of these plantings will make your landscape stunningly beautiful. Meanwhile, the hardscapes play a very important role in your outdoors. They improve the functionality of your outdoor area and make it more organized. You need to install retaining walls, walkways, garden paths, and sitting areas.

Water is also an important feature in your landscaping. It creates a focal spot in your outdoors where you can relax and calm your senses. Your options include waterfalls, ponds, fountains, and bubbling pots. As a property owner, you also want to enjoy outdoor living, so make sure that your outdoor setup has outdoor living features, such as patios, pool decks, and outdoor kitchens. Don't forget to install outdoor fireplaces and fire pits to give you warmth during cold days and nights.
Landscape Design
The beauty and functionality of your landscaping largely depends on the experience and skills of your landscape designer. At Thies Custom Walls and Landscaping, we make sure that every design project that we handle is carefully planned and highly personalized. We also use modern landscape design tools to give you a realistic rendering of the design proposal.
Lawn Care
One of the important maintenance tasks that you have to perform on a regular basis is lawn care. But it must be performed by experts to ensure the health and proper growth of all the softscape elements. The maintenance tasks usually include the following:
mowing and edging
trimming and pruning
fertilization
weed and pest control
aeration
disease control and treatment
resodding or reseeding
seasonal cleanups
Landscapers
There are a lot of landscapers that you can hire in Missouri. But how can you determine if you have hired the right one? First, you have to look for the licenses and certifications. A duly licensed and certified landscaper has the right skill set and complete resources. You should also look at the number of completed projects. An impressive portfolio means your contractor is highly capable and well-experienced in all aspects of landscaping. But if you want to be sure, just hire us at Thies Custom Walls and Landscaping. We possess all these qualities, and we can design and build your dream landscape at a client-friendly cost. Call us today.

"MORE ARTICLES"

Pavers
Retaining Walls
Water Features
Landscape Lighting
Landscape Design
We Provide Services to the Following Cities and Towns in MO: