Landscape Design and Installation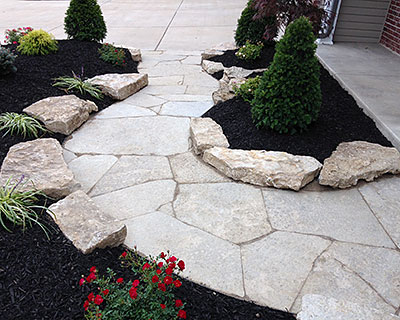 Thies Custom Walls and Landscaping is a reputed company that handles start to end landscaping projects. On board our company is a team of highly skilled professionals that have been working in this field for a number of years. We know that when you have open spaces on your property in Maryland Heights, Hazelwood, Wentzville, Ellisville and Saint Ann, you want to be able to use them optimally. The one way you will be able to do this to get these areas designed by a professional and well-established company.
Landscape Design - Our Work Process
Over the years, we have also handled a large number of projects for our long time clients in Saint Charles, Creve Coeur, Lake Saint Louis, Bridgeton and Chesterfield. Designing these areas isn't just about planting a few trees or installing flower beds and lawns; it's a lot about taking various factors into account. When you come to us with your requirement for landscape design and installation, we follow a very detailed work procedure:
Our experts will come over to your property
They will understand what your ideas and preferences are
Conduct a detailed survey of the property
Check what types of plants and trees already exist on the property
Take the architectural elements of your home into account
Once we have assimilated all this information, we will then get to our drafting boards, provide you a professional landscape drawing and provide a free quote for it
This to-scale drawing will have details about how every area in the landscape will be designed. You will be able to view all the demarcated areas and placement of various features
When you have this, it helps you decide whether you want to make any changes. At this stage we can easily include these changes in the design.
Once you approve the final design and the landscape installation cost, we will then start the work on the pre-decided date and complete the work on schedule. We are very hands-on in our approach to our work and the owner and the expert team will be present on site to ensure that every feature is installed to perfection
How You Benefit From Our Landscaping Services
When you opt for our landscape design services, you are assured of:
Spaces that are aesthetically and functionally designed
Creative use of space
Addition of unique landscaping features
Appropriate irrigation and drainage installations
Addition of water features as required
We also provide comprehensive advice on plantings. You can choose from annuals, perennials, seasonal color plants, shrubs and trees, native area plants, plants mixed based on texture, 'hardiness' and low maintenance graded plants, groundcover etc. This helps you make the right choice of plants and you get a clear idea about the maintenance requirements
For more information about how we can help with drainage system installations on your property, call Thies Custom Walls and Landscaping at 636-379-3576. You can also visit our website for information about the range of other services we offer.
We Provide Services to the Following Cities and Towns in MO: