Landscape Lighting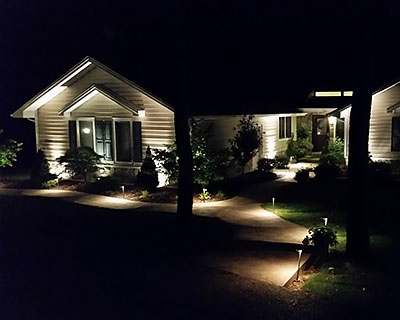 Landscape lighting is never a question of necessity. You NEED to have it. It's a logical addition to keep your home safe and secured. Can you imagine what will happen without lights outdoors? It will be unsafe, prone to accidents, and may even invite unwanted guests. But you don't just install some ordinary bulbs in every corner of the house. Nowadays, illuminating your landscape is an art form in itself.

At Thies Custom Walls and Landscaping, we have professional installers and lighting designers who can create the dramatic yet functional appeal for your outdoors. We're proud to have finished similar projects in St. Louis, St. Charles County, North St. Chesterfield, South St. Louis County, St. Peters, Louis County, O'Fallon, St. Charles, Lake St. Louis, and Wentzville, MO. Please hire us today and you'll simply be amazed at how your landscape can change appeal at night with the right landscape lighting design.
Outdoor Lighting
Choosing the right type of lighting for your outdoor is very crucial. There are different types of outdoor lighting, and you should know their specific functions. Here are some of them:
Outdoor wall lighting. As the name implies, it's for the walls. It can highlight the beauty of your walls and the nearby landscape amenities.
Landscape lighting. It is primarily used to showcase landscape elements like plants, flowers, wells, and walls.
Outdoor hanging lights. They are commonly used to light the front area. They are decorative lighting products that usually come in interesting designs.
Post lanterns. Dramatic statement is what you'll get if these are installed at the end of the driveway.
Outdoor ceiling lights. Install these in an overhang, a patio, a porch, or an entryway, and you'll get a dramatic look.
Deck and step lights. Installed on the ground, these are made especially to light the walkways, driveways, pool edges, and sidewalks.
Flood lights. Maximum safety is guaranteed with this type of lighting.
Lanterns and torches. Simply functional yet a very decorative and romantic lighting element for the landscape.
We use a combination of all these landscape lighting types to create different effects for the outdoor area. For instance, we use uplighting to highlight trees from the ground up while we recommend the moonlighting technique to cover larger areas. We use silhouetting and shadowing to add drama and mystery. Other lighting effects that we can use include grazing, path lighting, cross lighting, and spotlighting.
Outdoor LED Lighting
We at Thies Custom Walls and Landscaping offer efficient lighting systems. We highly encourage the use of outdoor LED lighting for many reasons:
Variety. LED is available in various colors, although white is the most common.
Direction. While other lights need diffusers and reflectors that rob energy sources, LED lights do not and rather emit lights in a more specific direction.
Less heat. LED's emit less heat as compared to CFLs and incandescent.
Low-Voltage Lighting
Thies Custom Walls and Landscaping specializes in installing low-voltage lighting, and we highly recommend this for many reasons. First, it's safer because you'll need less energy. With this system, there is a lower risk of being electrocuted or causing fire due to faulty wiring. Since it consumes less electricity, your energy bills for the landscape lighting system will be lower.
Let us help create a lovely ambiance for your outdoors with our landscape lighting installation service. We'll not only install the lights and create romantic and dramatic appeal, but also ensure that they will last long. Please call (639) 379-3576 now.
"MORE ARTICLES"
Landscaping
Pavers
Retaining Walls
Water Features
Landscape Design
We Provide Services to the Following Cities and Towns in MO: