Drainage Solutions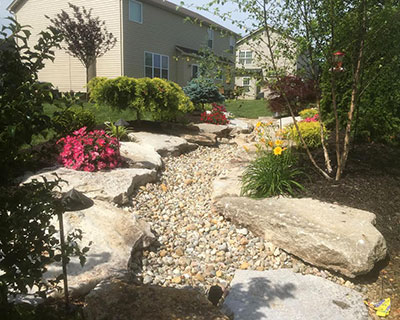 Drainage is one aspect of your landscaping that tends to be sidelined when you are considering what you want installed. But any expert landscaper will tell you that without the right drainage solutions, the softscaping in your garden won't stay healthy for too long and neither will the hardscaping.

We at Thies Custom Walls and Landscaping have seen properties in and around Maryland Heights, Hazelwood, Wentzville, Ellisville and Saint Ann face issues with their landscape features on account of improper or poorly installed drainage systems. While we have handled installation of drains in these areas and across Saint Charles, Creve Coeur, Lake Saint Louis, Bridgeton and Chesterfield, many of our customers also contact us to fix drainage issues in their current landscapes.

We are an expert landscaping company and our personnel have extensive experience in this industry. When we handle end-to-end landscaping projects for our customers, we focus on ensuring that along with everything else, the irrigation and landscape drainage systems are also installed well.
Range of Drainage Solutions
There are a range of drainage solutions available and we mix-and-match these installations to achieve the desired result. We have seen some properties that have been irrevocably damaged by incorrect drainage installation. Here are some of the features we install to ensure your landscape doesn't get flooded and that there is no pooling of water in any areas of your property.
Dry Creek Bed - This is a very effective drainage solution that can be used to eliminate flooding or swampy areas in your yard. Based on the layout of the land, we can create a shallow swale and line it with river rocks that would be able to withstand even a very serious downpour.

Not only does a dry creek bed break the force of the flowing storm water and directs the water towards the main drains, but it helps prevent soil erosion too. Apart from this, the casual installation of these stones and rocks adds to the aesthetics of your landscaping and provides a natural backdrop for perennial plants as well.

Building Berms And Retaining Walls - While retaining walls are typically built to provide support to the landscaping, we also very cleverly use these and berms to disguise city-owned drainage and power equipment that may be visible in your yard. In fact, the retaining walls can serve a dual purpose when we structure in-built seating or planters in them.

When we are building retaining walls, we don't just build them in a haphazard manner. These walls are engineered to perfection and we ensure that they are used in conjunction with planting to prevent soil erosion in problem areas.
In addition to these solutions, we may also install drain tile systems, gutters & downspouts, swales & culverts, dry wells, French drains, driveway, pathway & walkway drainage, channel drains and area drains.
For more information about how we can help with drainage system installations on your property, call Thies Custom Walls and Landscaping at 636-379-3576. You can also visit our website for information about the range of other services we offer.
We Provide Services to the Following Cities and Towns in MO: